How can I dry my favorite fruits at home?
Introduction
Dried fruits have been known for centuries BC. The process of fruit drying is practically reducing its water content as much as possible. It is one of the most common and simple ways to preserve them, as the resulting "dehydrated" fruit is unlikely to harbor bacterial infection. In terms of popularity, raisins are number one worldwide followed by dates.
This article is a step-by-step guide to make you able to prepare 4 of the most common and delicious dried fruits at home with minimal effort and in the healthiest way. These are raisins, plums (prunes) apricot, and fig. We will discuss:
How to choose your best fruit for drying. What are the different methods to prepare the fruit before drying?
What is the simplest and recommended pre-treatment method?
The best two indoor methods to dehydrate fruits.
What are the steps to follow after dehydration?
How to preserve your dried fruit.
How to rehydrate a dry fruit.
How to incorporate the dried fruit in your meal.
What is the nutritional value of the dried fruit?
BEFORE DRYING (PRE-TREATMENT) METHODS
CHOOSING THE BEST FRUIT TO DRY
This is a common-sense step. If you using an apparently "bad" fruit, you will get a "bad" dried fruit.
Select ripe fruits only (not overripe). The nearest from being harvested the better.
Wash properly.
Pealing: for apricots.
Remove its core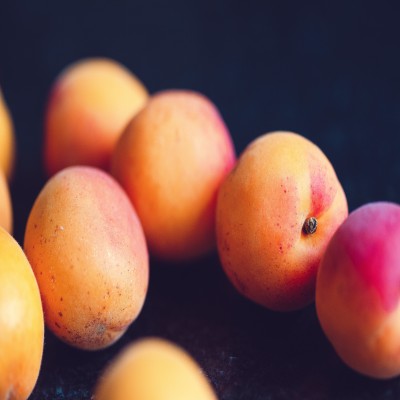 The only purpose of pretreatment is to prevent further darkening of the fruit (especially sliced, light-colored ones as apples) after drying. This principally occurs due to exposure to air.
There are four main types of pre-treatment: ascorbic acid, sulfite, dipping in juice or other sugary media, and finally, steam blanching.
Sulfite dipping is said to be the best, however, to avoid the possible small risk of exposure of our bodies to this chemical that sometimes causes asthmatic reactions, in this article and for the mere purpose of simplicity, we will discuss the pre-treatment methods available at everyone's home.
Dipping in different syrups, juices, or even honey can be used, but the main concern is that the resulting dried fruit will contain more and an unexpected number of calories.
Recommended technique: Steam Blanching:
Boil water in a deep bowl with a tight lid.
Place fruit not more than 5 cm deep in a wire basket over the boiling water.
Cover tightly.
Start timing:

For figs and grapes: 30 seconds. Then remove and immerse in ice water to prevent further cooking. Dry excess water using a paper towel.
For Apricot: 3- 4 minutes are enough.
For Prunes: only rinse the fruit in hot tap water.

Sometimes you need to stir the fruit.
DRYING (DEHYDRATION METHODS)
Outdoors drying:
Sun-drying:
This is the least expensive of all methods as it depends totally upon the heat generated by exposure to direct sunlight. The temperature must not be below 86°F (30°C) and humidity must not exceed 60 percent. Logically, it will take a longer time than the other "artificial" methods (several days) and the fruit can be exposed to more contamination from dust, insects, or microbes.
Solar drying is a modification to sun drying. Using a foil surface inside the dehydrator will increase the temperature and shortens the time needed for fruit drying.
After either sun or solar drying, the food must undergo pasteurization to avoid microbial replication. This can be done either by freezing the dried fruit (after wrapping it in plastic bags) in a freezer at 0°F (-18°C) for 48 hours or placing it in a single layer on a tray in an oven pre-heated to 160°F (71°C) for 30 minutes.
After this method, the dried fruit can be safely used and stored.
Indoors drying:
Tray driers:
This is a more advanced technique that depends upon aligning fruits in layers, put on specific trays in an enclosed chamber, and then exposed to both heat and dry air streams.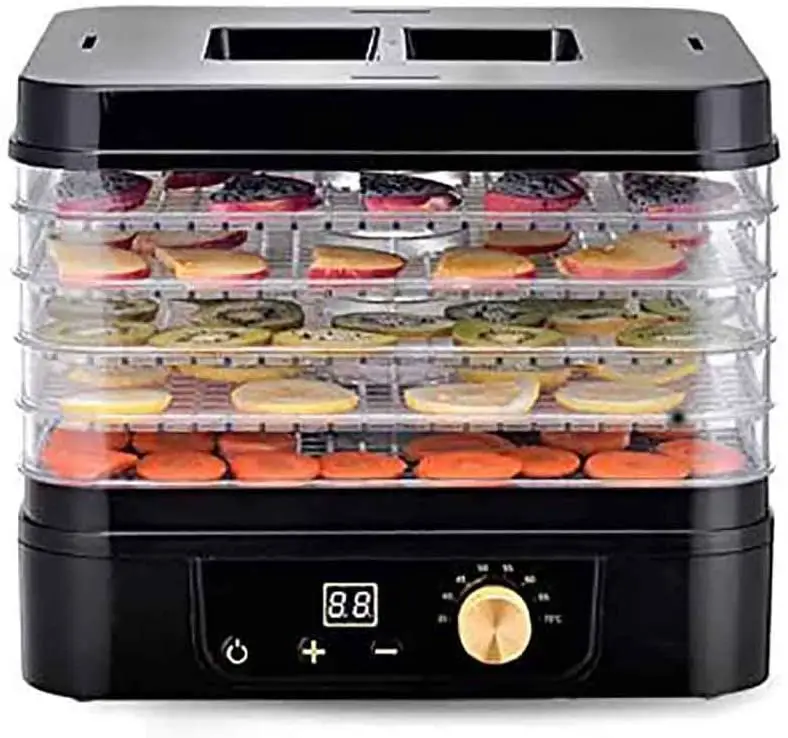 The heat is electricity-generated and there are fans and vents to provide a dry air stream. The air stream is important to rapidly carry the water vapor resulting from heating the fruit. The air is dry to be able to carry the molecules of water (vapor).
Studies have shown that the required heat is usually around 123°F (51°C) for most types of fruit, however, many tray driers are set at 140°F (60°C) up to 190°F (88°C) and humidity not more than 19%. Furthermore, the air stream flow should be around 500 feet per minute for the best results. This will need much shorter times than sun drying but the resulting dried fruits are usually shrunken and are difficult to rehydrate. Overall, this is the most recommended method for fruit drying.
The fruit pieces must be spread singly on the tray without overlapping or touching each other. The drying durations for fruits vary according to their types. It is shortest for figs (6-12 hours), for raisins it is from 12 to 24 hours, and for prunes and apricot, it is from 24 to 36 hours.
Oven drying:
Since tray driers may not be available in every house, a more simple method can be used. An oven can be used as a dehydrator if we can secure a way for a dry airstream at the same time. Of course, this is difficult (to keep the oven's door slightly opened (2-6 inches wide) while the oven is no more than 140°F (60°C), especially in the presence of children) and keep your oven occupied with the fruits for a while so you cannot use it for cooking purposes. The oven racks, holding the trays, should be two to three inches apart for air circulation. The average kitchen oven holds approximately 4 to 6 pounds of fruit at one time. Stir fruit every 30 minutes.
The drying durations for fruits vary according to their types. It is shortest for figs (12-24 hours), for raisins it is from 24 to 48 hours, and for prunes and apricot, it is from 48 to 72 hours.
Microwave drying
Some consider using vacuum microwaves one of the best methods to dry fruits as the absence of air stream prevents the color changes that happen to the dried fruits due to oxidation, and also, the nutrients are said to be better maintained by this method.
Despite microwave provide heat in a shorter time than other methods, it should be noted that some studies consider microwave drying not the best for fruit drying but only for beans. The ideal combination of heat and the dry air stream is not fulfilled in microwaves.
RECOMMENDED METHOD: Tray drying is the best. If not available, use oven drying instead.
Determine the degree of dehydration of your dried fruit.
In industry, this can be done very accurately with special complicated techniques. To do this at home, we will depend on simpler and –of course- less accurate methods. We aim to get a dried fruit with a moisture content of no more than 20%. If the dried fruit doesn't fulfill this criterion, it should be returned to the dehydration process again.
Select few pieces after being cooled and cut them in halves. By visual inspection, there should be no signs of moisture seen in the halves. Also, you can squeeze the halves to see if they are still moist. No water should be coming from the squeezed piece.
If you can fold a whole fruit and the halves are not stuck together, this is a sign of dryness.
After confirming dryness by one of the above-mentioned methods, leave the fruit to dry for 30-60 minutes before going to the next step.
Conditioning
During the process of dehydration, not all the fruit pieces are dehydrated equally. This is why we need to "condition" the dried fruits to distribute the moisture equally among pieces.
The fruits are put in a glass jar and sealed tightly and left for up to 10 days. Each day, shake the jar to separate the fruits and check if vapor appears on the glass from inside. If this happens, the fruits must be returned to the dehydration process.
Storage:
Dried fruits should be stored in a glass jar, and kept in a cool, dry, dark place. They can be stored at room temperature (not exceeding 80° F, 27°C) for 6 months. Else, keep them in the freezer.
Rehydration (reconstitution):
Although eating dry fruits without "rehydration" is delicious, some consider "soaking" an important final step before eating. This is particularly important if you are going to use raisins in baking. Soaking in general is said to dissolve nutrients and make them more easily available to absorb by our bodies.
For raisins, 2 cups of water can be used for 150 g of raisins. They should be soaked overnight and eaten in the morning. If you plan not to eat them, freeze them after soaking.
For larger fruits like prunes, apricots, and figs, you will need 2 cups of water for each 1 cup of fruit. Minimum soaking time is one and half hours up to overnight.
How can we add dried fruits to our diet?
There are many ways indeed:
Eating them as "natural" snacks either after rehydration or as is
In bakery (especially raisins). This is best done with rehydrated raisins.
Adding them to power and protein bars: especially raisins
In Mediterranean countries, raisins are added to rice in some recipes. They are delicious; try them, I know!
Other uses as in jams or compote.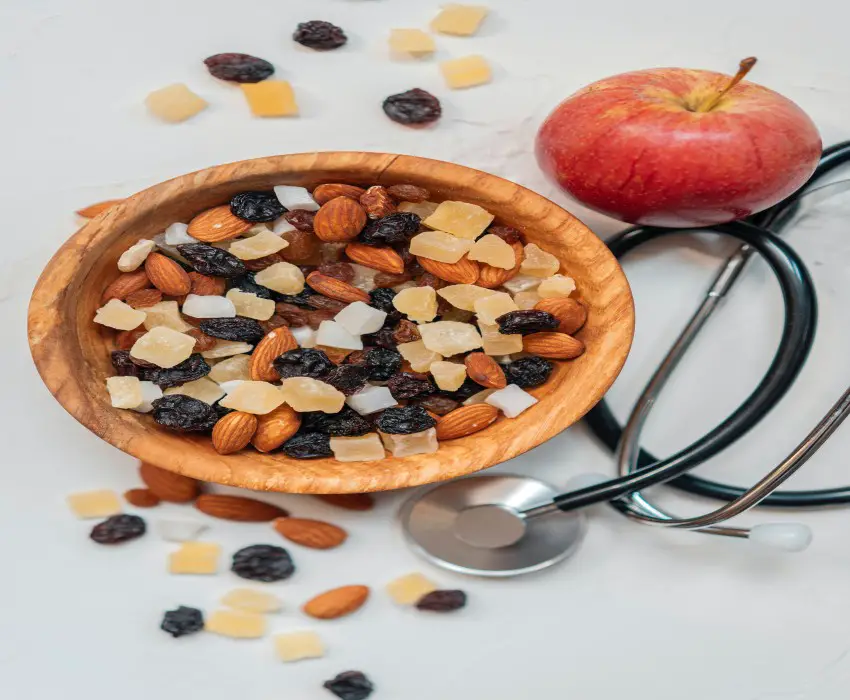 Nutritional values: General features
There are three important notes about preparing dried fruits:
1 . Drying is actually "dehydrating". That means you are removing water (or most of it) from the fruit. The remaining nutrients are the same, and so, a single fruit contains the same calories as its equivalent dried one.
This is the same for other nutrients. This may cause a problem!!. Since the dehydrated fruit is much smaller in size, this may encourage you to eat more.
The commonest two problems with that are excessive caloric intake and the occurrence of loose motions due to excess fiber intake.
2 . It's important to know the method of drying since some methods can affect the nutrients and so in this case, the resultant dried fruit will not contain the same nutrients as its non-dried equivalent.
The best-known examples are vitamin B, folate, and vitamin C, the levels of which are affected by heating.
3 . All studies have shown that dried fruits have a lower glycemic index than fresh fruits. According to webmd " Glycemic index is a number. It gives you an idea about how fast your body converts the carbs in food into glucose.
Two foods with the same amount of carbohydrates can have different glycemic index numbers. The smaller the number, the less impact the food has on your blood sugar". That means, even if a grape contains the same amount of carbohydrate as a raisin, the fresh grape can make your blood sugar reach the blood faster than raisins.
It's important to note that this will not affect the net calories you gain but is important for you if you have diabetes. The best explanation is that the concentration of fibers in a raisin delays the absorption of sugar in it.
The following tables (from nutritionix.com) well demonstrate the principles above. The nutritional facts of grape are compared to those of raisins. One grape is nearly equivalent to one raisin.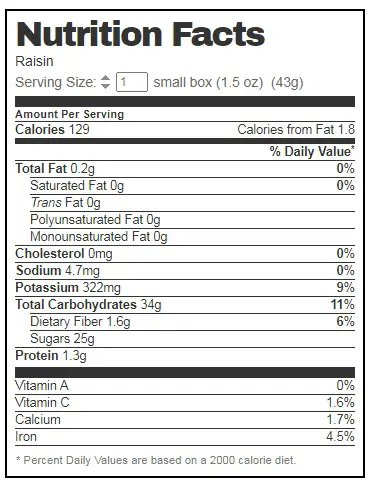 These are the nutritional facts of the other selected fruits from the same source: