Can Shawarma Be A Good Post-workout Meal?
Eating outside is one of my son's favorite hobbies. The second hobby is muscle building. I always have to give him advice as a father and as a doctor regarding both.
Can shawarma be a good post-workout meal? Yes, with the following requirements:
Eat chicken shawarma instead of beef
Homemade shawarma is preferred
Use whole-wheat bread instead of pita or white bread. If you can discard bread, it is much better
Don't eat excessive vegies with shawarma in the immediate post-workout period.
Many other fine-tuning can give you better results. Continue reading to discover more.
What is a workout and why is it important?
According to Merriam-Webster dictionary, a workout is  "a practice or exercise to test or improve one's fitness for athletic competition, ability, or performance".
Two main categories of workouts exist: cardiovascular exercises and strength-based ones. The first, in addition to providing cardiovascular system benefits, also helps in weight loss as they involve the body as a whole. On the other hand, strength-based exercises are involving specific groups of muscle and are intended to strengthen them regardless of any weight losing effects.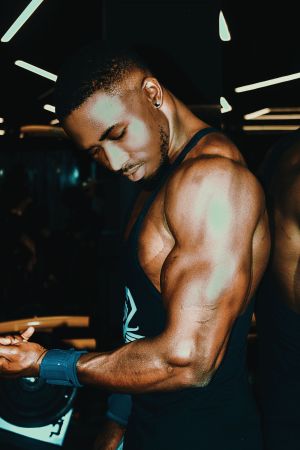 According to the WHO (World Health Organization), a healthy adult between the ages of 18 and 64 years should perform 75 minutes of intense exercise or 150 minutes of moderate exercise each week. This is mainly intended to maintain cardiovascular (heart and vessels) fitness. If we need to add losing weight as a goal, studies advise doubling these periods.
Why do we need a post-workout meal?
Our muscles are mainly composed of protein and are using glycogen (a substance that stores carbohydrates in human beings and animals, which is the equivalent of starch in plants).
When you exercise strongly, you consume glycogen to provide your muscles with energy. At the same time, there are always some microscopic injuries that affect the muscle fibers due to stretching. This is the scientific basis why after exercise, the muscle will need two main nutrients to recover: carbohydrates to replenish glycogen, and protein (namely animal protein) to repair the microscopic injuries.
Protein needs:
Not only "protein" that we need, but "animal protein". Why?. Because only animal protein contains all essential amino acids that are used by the muscles to rebuild themselves. They are called essential since the human body cannot create them by itself.
After you finish your workout, and for a variable period of time, usually a few hours, your muscle are more ready to absorb protein. This is called the "anabolic window". Anabolic simply means "building". After around 24 hours, any ingested protein will be distributed to the body, and the muscle will not have the highest priority of obtaining protein for its anabolism.
Carbohydrate needs
Unlike the need for protein which can be supplemented for several hours after the workout, the need to replenish glycogen is more urgent, especially if you don't eat before your workout. Actually, it is preferred to replenish glycogen within 30 minutes to one hour after a workout.
What about fat?
The main problem of fat, if eaten shortly after a workout is that it may delay the absorption of other needed nutrients. So, it is better not to consume large amounts of fats during this period.
What is shawarma and what are its nutritional values?
Shawarma is prepared by shaving off slices of meat (beef or chicken) from a meat cone. It is usually served with bread (pita as an example), sauces (garlic,..), fried potato chips, and fresh vegetables.
What is the nutritional value of shawarma?
Beef Shawarma
For one sandwich, 390 gm (1 Serving Size):
Calories: 773
Calories from Fat: 215
Total Fat: 24 grams
Saturated Fat: 7.9 grams: that is 40% of the daily recommended intake (DRI)
Cholesterol: 200 mg: 67% of DRI
Sodium: 602 mg 25% of DRI
Potassium: 813 mg 23% of DRI
Total Carbohydrates: 58 g 19% of DRI
Dietary Fiber: 2.8 g
Protein: 78 g
It should be noted that discarding pita bread can save us around 200 Kcal and make the whole meal caloric value less than 500 Kcal.
Chicken Shawarma
For one sandwich, 314 gm (1 Serving Size):
Calories: 528 Kcal
Calories from Fat: 156 Kcal
Total Fat: 17 grams: 26% of RDI
Saturated Fat: 3.6 grams: that is 18% DRI
Cholesterol:101 mg: 34% of the DRI
Total Carbohydrates: 46 g 15% of DRI
Dietary Fiber: 3.1 g 12% of DRI
Protein: 45 g
It should be noted that discarding pita bread can save us around 200 Kcal and make the whole meal caloric value less than 300 Kcal.
The harms of shawarma are mainly in the way it is prepared. If you are getting it from a restaurant or as a "street food", this is your biggest mistake. Even chicken shawarma, when prepared by them, will not be so healthy. Leaving the cones in the air is not good. They are exposed to many infections. Believe me, I see many patients with gastroenteritis (infection of stomach and intestine) after a "street" shawarma meal.
Not only that, but also adding fats intentionally to modify shawarma's taste is a quite common practice.
My last notice is that not only chicken breast is used but even legs and skin are added to the shawarma cone.
All these factors make me always advise you to follow the "do it yourself " choice for most foods you eat.
Can shawarma be a good post-workout meal?
In fact, many studies have claimed that junk food, in reasonable quantities and components, is not harmful after a workout. As mentioned before, there are three considerations in any post-workout meal. Proteins, carbs, and fats.
All people intending muscle building exercises need more proteins than others. A normal adult needs around 0.8 gm protein for each Kg of his weight. This can reach 2 gm (and some studies say even 3 gm/Kg body weight) for athletes.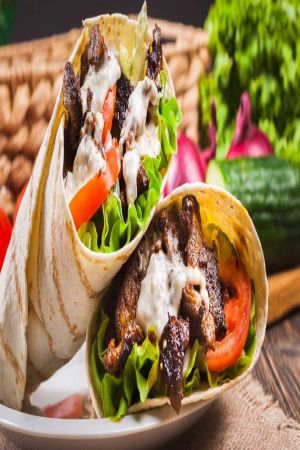 An important point that we always have to explain to our patients. For example, when we say "you need to eat 100 gm of protein per day, that doesn't mean 100 gm of "meat" or "chicken". 100 gm of beef meat, will contain only 27 gm protein. The rest is water, fat, etc…
To make shawarma a good option in the post-workout period, use these simple guidelines:
First rule as always is "Do It Yourself". Homemade shawarma is better than "street" or restaurant one. The difference is beyond measure.
Shawarma is an animal protein-rich meal. So, all essential amino acids are ready to be presented to your muscles. Also, choosing chicken shawarma, in particular, made of chicken breast, is with less fat and will make it easier for your body to absorb these proteins. Also, poultry meat is in general easier to digest than beef meat.
Adding few carbs in the form of whole wheat pita bread will help to provide your body with needed cards to replenish your glycogen. This becomes more important to eat within 30 to 60 minutes after a workout especially if you don't eat before it.
Finally, knowing your "protein and calories daily budget" will help you stay on track. Now you know that roughly: 100 gm of chicken shawarma alone, provides you with 220 calories, 24 gm proteins, and 13 gm fats.
Reduce veggies when eating shortly after a workout to help digestion and absorption of nutrients.
Will you gain weight if you eat after a workout?
If you followed the above recommendations then the short answer is NO. Why? Simply because eating more proteins was shown to have two important effects, both will help you lose weight.
The first is that increasing protein intake, like in the case of people doing regular workouts, makes the body burn more calories. From the scientific point of view, this is called "increasing the metabolic rate". So even if you are getting the same calories, your body will burn even 100 Kcal/day more.
The second effect is that a protein diet reduces appetite. In contrast to fats which reduce nutrient absorption, proteins have more effect on your caloric intake by reducing your appetite.