Is a protein bar better than avocado after a workout?
Finding the best foodstuff for a specific situation is usually difficult. Not only due to the presence of countless types of foods all over the world but also because, at least in most cases, there is no solid unequivocal opinion about food.
This is the case when we are faced with athletes asking about the best foodstuff or snack after their training. In this blog, we can answer this question confidently that neither a protein bar nor an avocado alone is good after a workout.  Our choice is to combine 2 ideal protein bars with a banana within 30 minutes of the end of a workout.
What is protein and why is it so important?
We all know proteins are the main building blocks of our muscles and also they form the "mainframe" of all other organs and tissues. They are composed of smaller blocks called amino acids which can be found in many foodstuffs and some can be formed by our bodies. Some of them cannot, and are called essential amino acids that can only be obtained from external sources.
For us to get all essential amino acids, it is easier to consume animal proteins than plant proteins. All animal sources of protein are considered "complete" sources as they contain all essential amino acids in one place. On the other hand, only soya bean as a plant is considered a complete source. No other plant contains all essential amino acids.
There are further hidden benefits of protein intake. If you are getting 30% of your daily caloric intake from protein sources, your metabolism will be enhanced to burn 100 Kcal more than if you are getting only 20%. This can be achieved even without changing your total daily caloric intake. Also, eating protein-containing food suppresses hunger more than fats or carbs.
This can help you not only to reduce weight but also to maintain your weight and prevent regaining fat. In one study, a modest increase in protein from 15% to 18% of calories reduced the amount of fat people regained after weight loss by 50% (https://pubmed.ncbi.nlm.nih.gov/14710168/).
The optimal percentage of proteins that should be taken to lose weight is 30% of caloric intake. Each gram of protein can yield 4 Kcal. So, if you are on 2,000 Kcal per day, that means you need to eat 150 gm (2000 x 30%/4). Simply multiply your calories by 0.075.
You should not forget that the daily recommended intake of protein is 0.8 to 1.2 gm per Kg body weight for a normal adult. For bodybuilding, this can reach 2.2 gm per Kg. this is around 154 gm of protein per day for a 70-kg adult. So, combined, it's better not to exceed any of these two calculations (2.2 gm/kg body weight and calories x 0.075).
What is workout and why do you need to eat after it?
Regardless of the purpose to lose weight, doing regular exercise is recommended for all healthy adults to stay fit.  Besides, some types of workouts are used to build muscle. Both types (for fitness and muscle building) have some common features. They both need energy and both will lead to microscopic breaks in the muscle fibers involved.
From here comes the importance of the tradition of eating a post-workout meal. This meal is mainly intended to replenish glycogen (the principal source of energy for the muscles) and essential amino acids to repair the microscopic breaks incurred by the exercise.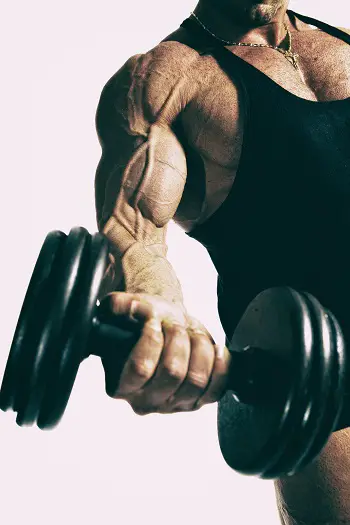 The need for essential amino acids in the proper ratios makes it necessary to obtain the protein from an animal source or from the very few known plants that almost contain them all, in particular, soya beans.
According to many scientific studies, for proteins to be of their utmost use for muscle repair, they should be consumed within few hours of the workout and not more than 24 hours.
On the other hand, to replenish glycogen, we need a carb diet within only half an hour from the workout. So the best practice is to take a post-workout meal within half an hour only.  
When carbs are taken with proteins, more glycogen is formed than if both are taken separately.
This meal should not have excessive fibers or fat as these will delay the absorption of the highly needed proteins and carbs at this period.
Recommended amounts of proteins and carbs to be taken in the post-workout:
Proteins: around 0.5 gm per Kg of body weight. That's between 20 gm to 40 gm of proteins for the average adult.
Carbohydrates: between 1gm/Kg to 1.5 gm/kg. Roughly, this is 3 times the protein intake.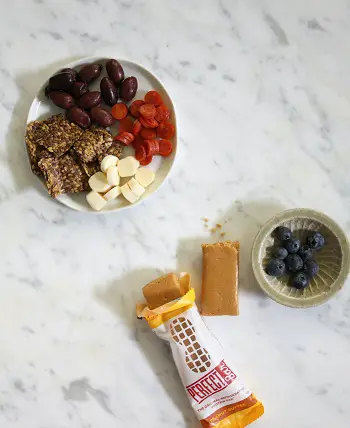 Protein bars are not necessarily pure proteins. In addition to protein from different sources according to their manufacturers, they contain other nutrients like carbs and fats.
Selecting the most suitable protein bar for you depends on two main things. The nutritional value, including caloric content and other nutrients in the bar, and the source of the protein. Many bars will have plant sources like oats, and whole grain. Some will have animal proteins like casein and whey.
An ideal protein bar should have the following criteria:
The protein source: Either an animal protein or a plant protein that is considered a "complete" protein source like soy, chia seeds, or quinoa. That is to ensure it will provide you with all the essential amino acids in the proper ratios.
Amount of protein: at least 10 gm a preferably 20 gm.
Caloric value: better not to exceed 200 Kcal for a post-workout snack or 300 Kcal as a meal.
Others: only 10 grams of carbs, at least 3 gm fiber, no more than 18 gm of sugar, and 4 gm saturated fat. Better, not to have any trans-fats.
Keto-friendly bars although can be used all over the day are not recommended as post-workout meals, as their high-fat content will reduce protein absorption which is not good in this situation.
Vegan protein bars: these need special attention. For post-workout intake, you should select those with "complete" protein value as soy, quinoa, and chia seeds. Other options but are not commonly found are mycoprotein, spirulina, buckwheat, and aramanth. 
From the above list, you will be able to choose the exact type (with completely balanced essential amino acids, carbs, and fats within the recommended range) and amount eaten (with total caloric intake remaining in your daily allowance).
For the mere purpose of comparison, we selected a typical protein bar that you can get from your supermarket that had these values: BAR (50 G): 210 calories, 9 g fat (2 g saturated fat), 240 mg sodium, 24 g carbs (5 g fiber, 13 g sugar), 12 g protein.
Avocado nutritional values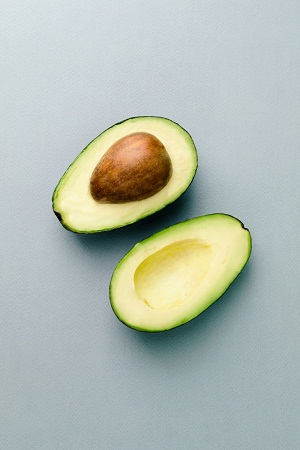 Avocado is a large Mexican berry, with an average weight of 150 gm. It's known for being a very rich source of monounsaturated fat since the fruit can provide you with 20 grams of it. This is considered a healthy type of fat that has a protective effect on the heart and blood vessels.
In addition to its high "good" fat content, avocado is rich in vitamins and minerals. For example, it has more potassium content than a banana has, which is important after a muscle exertion such as a workout to prevent muscle cramps.
The carbohydrate content of avocado fruit is about 15 gm, mainly of fibers (12 gm), and the protein content is 4 gm. It is not a source of all essential amino acids so it is considered an incomplete source of protein.
The total caloric value of average avocado fruit is about 300 Kcal, more than 260 Kcal are from fats.
The benefits of avocado regarding muscle building are not merely due to their protein and fat content, but to the fact that avocado boosts the production of the male sex hormone (testosterone) and the growth hormone. Both have anabolic effects on the skeletal muscles.
Another aspect of the beneficial effects of avocado that is commonly overlooked, owing to its high content of monounsaturated fats, helps reducing weight in three ways. The first is through providing you with a sense of fullness, and, the second is through enhancing the body to burn more calories after eating.
Which is better: protein bars or avocado alone?
If you recall, we mentioned that you need 0.5 gm/kg proteins and 1.5 gm/kg carbs in the first 30 minutes after a workout. This would be around 40 gm proteins and 120 gm carbs. Neither avocado nor a protein bar alone can provide these.
To complicate matters more, many dietitians advise t to eat no more than 2 protein bars per day and no more than one avocado fruit per day.
| | | |
| --- | --- | --- |
| | Avocado fruit (150 gm) | Protein bar (50 gm) |
| Maximum per day | 1 | 2 |
| Calories | 300 kCal | 210 each, 410 for 2 bars |
| Proteins | 4 gm | 12 gm each, 24 gm in 2 bars, select either animal protein or a "complete protein" plant source (like soy) |
| Carbs | 15 gm | 24 gm carbs, 48 gms in 2 bars. |
| Fats | 29 gm | 9 gm, 18 gm in 2 bars |
If you take a look at the table above, you will realize that is much easier (for getting the needed protein and carbs without high fat intake) to consume 2 protein bars in the post-workout and add an extra source of carbs to supplement for 20-40 gm than having a low protein, low carb avocado and try to supplement for both. This is best achieved by eating a banana. It will supplement for 27 gm carbs, only 100 Kcal, and no fats, also, its potassium content will help your muscle to recover and prevent cramps.
Avocado is a wonderful foodstuff. However, it will not be enough alone during the post-workout period. Preparing an avocado milkshake of eating it with eggs can be utilized during this period with varying nutritional benefits. In another blog, we will discuss and compare the different recipes using avocado for the post-workout period.