Is Shawarma Good for Weight Gain?
Ready to gain some quality weight without having to eat some needless junk food?
Great!
Here is the table of content of today's post so that you know what we will be dealing with today.
Now,
The notion that eating junk food to gain weight is absolutely reprehensible.
People trying to gain weight think junk food is "alright to eat" because it has more calories and fats than other healthy foods.
The truth of the matter is,
Junk food can adversely and drastically affect your health.
And that's that!
But "Isn't shawarma one of these junk foods?"—You might think.
Well,
Yes and No.
There are a lot of shawarma street spots in most of the Mediterranean countries.
Now you have two options:
Buy from these street spots and be vulnerable to bacteria attacks and immune deficiency.
Make Shawarma at home.
And if you ask me which is best every day for the rest of my life.
The answer will still be the same; the Second Option.
And,
The reason I am stressing about it is that I am a gastroenterologist.
I see a lot of patients complaining about abdominal pain on a daily basis.
While I am examining them, I ask:
Have you been eating any junk food the last couple of days?
And 90% of the time, the answer is yes.
So, the question of today: Is Shawarma Good for Weight Gain?
Yes! Shawarma is perfect for gaining weight. And, either you want to gain weight because you are underweight or increase your muscle mass. Shawarma can be your go-to meal.
In this article, I will:
Tell you why it is healthy for you.
Tell you how you can make healthy & delicious shawarma at home.
Answer some of the questions you might have.
Ready?
Let's go for it.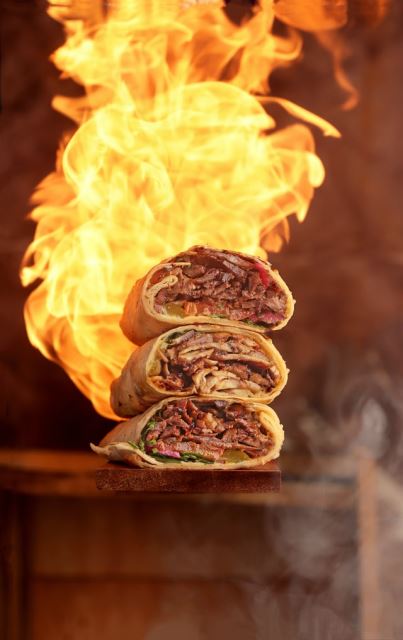 So, let me ask you this…
Why are you trying to gain weight?
Is it because you are underweight?
Or is it that you want to build muscle mass?
Whatever your answer is, I will tell you how shawarma can help you achieve your weight goals.
Shawarma is Perfect for Underweight People
Before telling you why…
Let me tell you what being underweight really means.
It means your daily calories intake is less than what you burn.
Also,
Being underweight is defined by having a Body Mass Index (BMI) of less than 18.5.
Worth mentioning, you will be considered overweight if your BMI is over 25. And, if you are over 30 then you are considered to be obese.
If you want to calculate your own BMI and find where you at, click this link and enter the required data.
Do you know your BMI now?
If you found yourself underweight, overweight, or obese, let me relieve you a little.
The BMI scale isn't obsolete.
It only looks at the weight and height, neglecting the muscle mass.
In fact, there are very skinny people but still very healthy.
Being underweight according to the BMI scale doesn't actually mean that you have health problems.
It just means you need to go to a nutritionist and make sure your body is healthy.
And, even if the nutritionist told you are underweight. Still, don't worry. Everything will be alright if you follow the nutritionist's diet.
But here is the thing, being underweight can be a big deal.
Being underweight was proven to cause more deaths in women and men than obesity.
A study has shown that being underweight was associated with a 140% higher risk of early death in men and 100% in women.
And obesity was associated with a 50% higher risk of early death for men and women.
Another study has shown that being underweight is more dangerous for men than it is for women.
Here are three studies that associate being underweight to many diseases:
The reason I'm mentioning all of these studies is to stress the importance of following the nutritionist's diet. It will be worth it eventually.
Now,
To know why Shawarma can be perfect if you turned out to be underweight,
Take a look at the nutritional content of Beef & Chicken Shawarma:
For one sandwich of Beef Shawarma, 390 gm (1 Serving Size):
Calories: 773
Calories from Fat: 215
Total Fat: 24 grams
Saturated Fat: 7.9 grams: that is 40% of the daily recommended intake (DRI)
Cholesterol: 200 mg: 67% of DRI
Sodium: 602 mg 25% of DRI
Potassium: 813 mg 23% of DRI
Total Carbohydrates: 58 g 19% of DRI
Dietary Fiber: 2.8 g
Protein: 78 g
Now, for…
One sandwich of Chicken Shawarma, 314 gm (1 Serving Size):
Calories: 528 Kcal
Calories from Fat: 156 Kcal
Total Fat: 17 grams: 26% of RDI
Saturated Fat: 3.6 grams: that is 18% DRI
Cholesterol:101 mg: 34% of the DRI
Total Carbohydrates: 46 g 15% of DRI
Dietary Fiber: 3.1 g 12% of DRI
Protein: 45 g
As you can see.
The nutritional content of Shawarma is fascinating.
The calorie intake is very convenient for you if you are looking to gain weight.
But
"Wait a minute. How should I know what my calorie DV (Daily Value) should be?"
Glad you asked.
This Weight Gain Calculator is an effective tool to calculate what your DV of calorie should be.
Just enter the data required in the calculator, know your daily weight gain calorie requirement, then start to work out your calorie intake portion of every meal in the day.
And stick to it.
Ultimately, you will gain the required weight that will make you healthy.
Shawarma, as I said, can be a perfect food if you are looking to gain weight and be healthy.
It provides you with a significant amount of calories, not to mention healthy fats.
But it also can help you out if you are looking to gain muscle mass.
And, let me tell you why…
Shawarma is perfect for People trying to Gain Muscle Weight.
For you to gain muscles, you will have to work out and eat proper food…
The type of food that contains the essential nutrients your body needs to build muscles.
I have mentioned these nutrients and talked about them in a later article.
The essential nutrients you need to build muscles, as you can see, are:
Protein (Crucial for muscle growth and repair.)
Potassium. (Nurtures the muscles with the nutrients it needs for growth and repair)
Iron (Carries oxygen to the muscles).
Glutamine (It supports muscle growth)
Calcium (Responsible for muscle contractions and helps with building strong bone mass.)
As you may have noticed, Shawarma offers two of these nutrients.
Shawarma offers relatively large portions of both protein and potassium.
Which can significantly help you in your workouts and ultimately build the muscle mass you need to have a healthy weight.
So,
I have shown you how Shawarma can contribute to your weight goals and help you be healthier.
But,
Some people have mailed me after the last shawarma article asking whether shawarma is actually healthy or safe to eat.
So, let's talk about it…
Is Shawarma Healthy?
Yes! Shawarma provides you with healthy nutrients and fats that can contribute to a healthier you.
But like everything in life, overeating can be lousy for your health.
Mediate your shawarma consumption and make it accustomed to your daily calorie value requirement.
But not all Shawarma is healthy! Let me rephrase that: Not all vendors or restaurants make legit healthy Shawarma.
Some of the Shawarma made in the United States of America is drenched in oils, fats, preservatives, and very unhealthy chemicals to make it taste better.
All of these unneeded additions can have some negative impacts on your overall health.
But, in the Middle East, some street shops make healthy Shawarma and pick their ingredients fresh.
They don't add any of these preservatives or chemicals.
(Notice the some above.)
So,
Is Street Shawarma a Good Idea?
The cost is OK, and it tastes good.
But you don't know what they added to it to make it tastes that good.
There are many reasons why street shawarma can be unhealthy:
Chicken, or meat, dangled on the machine stick waits for a long time. Doing this time, the chicken can collect dust and probably even compile bacteria. Which will cause health issues like abdominal pain, and I might see you at my clinic the next day.
Some vendors add fats to the meat to add juiciness and grease to the chicken. Don't get me wrong, fats are good if you are looking to add on some weight. But I won't recommend you eat a piece of meat or chicken with fats added from an outside source to it.
As I always say, it is best to make Shawarma at home.
I know what your next question is,
How can I make Shawarma at home?
Here is one of the best ways I saw online to make chicken shawarma at home:
And, for the beef shawarma:
Here are three tips to make your chicken shawarma even healthier:
Cook your shawarma in olive oil.
Don't eat the shawarma with bread. Instead, eat it with carrots, tomatoes, cucumber, lettuce, and some sauces.
Keep the flame on the chicken medium for a healthy snack. Don't roast it on a high flame.
Conclusion
Shawarma (Beef & Chicken) is healthy, delicious, and nutritious.
It is perfect if you are underweight. And if you are looking to build muscles, it will be a healthy option to add to your diet.
But,
It is crucial that you observe your daily calorie intake.
Watch out though,
Eating it from the streets can be a little risky.
But, if you have to, go for it. But make sure you don't overeat it.
Now, here is the catch.
Recently, I have made a healthy shawarma recipe. Let me know in the comments if you want me to write an article about it, why I made it, and why it is more perfect for overall health than other shawarma recipes.
Waiting for your comments!😊
Note:
These amazing two articles show you more high-fat foods that can significantly contribute to your weight goals: