A Tale of Two Yummies: Turkish Delights and Baklava
Have you read Tale of two cities by Charles Dickens?
Or have you watched the movie version of it?
Spoiler Alert!!
The main theme of it is the French revolution and the set of conditions and actions that led to it.
If you are wondering whether this article is getting all historical or poetical.
Then,
No, this article isn't historical, of that kind.
It is historical, but in another way, the yummies way.
It doesn't tackle a revolution; it tackles the revelation of the best ever-made pastry desserts.
In this healthy juicy blogpost I will be talking about:
Baklava; Origin, History, and some Recipes.
Turkish Delights; Origin, History, and some Recipes.
Here is the Table of Contents so that you know what we will be dealing with today.
Shall we begin?
Let's dive in…
(Wow, it rhymed! 😁)
Baklava
Now,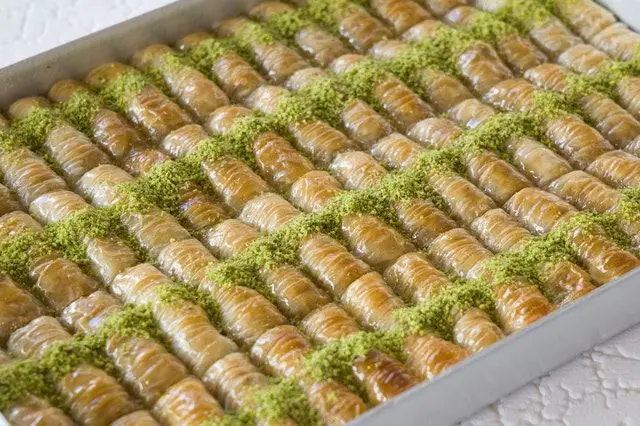 What is Baklava?
Starting with…
Definition
It is a traditional pastry dessert that has been around for over 3000 years.
Every culture added its own imprints on its ingredients, how it is served, and when.
But mainly, this dessert is served on special occasions like:
Ramadan for Muslims
Christmas and Easter for Christians.
Rosh Hashannah and Purim treat for Jews.
What makes it especially favorable is its mouth-watering looks, sweetness,
richness, and flaky texture.
Takes you on and your beloved ones on a sweet, fun journey where your taste buds keep dancing in your mouth.
What is it made from? (Ingredients)
As I previously said, every culture, including the Ottoman empire, added its own alterations to the baklava ingredients to match its own needs
So, the ingredients vary.
Still, there are these key essential ingredients to every baklava which are:
Phyllo sheets.
Nuts (oftentimes pistachios).
Butter.
Sweet Syrup (typically honey mixed with spices and juices)
Knowing these main ingredients, it is time to tell you how you actually make baklava with these different ingredients.
How can you make Baklava?
(Insert Image that displays Baklava Making)
Simple steps?
Alrighty!
First of all, Baklava is very easy to make.
And, if you are not that comfortable with being in the kitchen, it will be worth it.
Believe me.
Now,
You can make Baklava following these easy steps:
Chop the nuts using a knife or in a food processor, preferably pistachios and walnuts.
Process the fine-cut nuts with sugar-cinnamon, in addition to other spices until the mixture is fully mixed.
Get a baking sheet and lightly grease it. Then, befit a phyllo sheet to the bottom of this sheet.
Brush the phyllo sheet with melted butter several times. These buttery bottom layers will provide you with a sturdy taste for your Baklava.
Pour 1/3 of the nut mixture on top of the phyllo sheet. Then, top with two more phyllo sheets. And, don't forget to brush between these layers with melted butter, and add the other two-thirds of the nut mixture between every layer after brushing it with butter.
Put your nearly finished Baklava in the fridge for 10 minutes to make it easier to cut. During these 10 minutes, get a saucepan and combine honey, lemon juice, sugar, and water in it. Boil then simmer the mixture. Finally, leave it to cool to room temperature.
Get the Baklava out of the fridge and cut it in the shape that comes more to your liking. Then, bake it according to the recipe you are following. (I will be recommending some tasty delicious recipes in this article, so make sure you stick around.)
Get the Baklava out of the oven, and sprinkle the room temperature syrup over it. Then , cover it with foil, sit it overnight. This will allow the syrup to penetrate between the layers.
Then to the easiest step of them all.
Enjoy!
Baklava Origin & Influence of Different Civilizations
Let's first warm up with the…
Baklava Origin
This popular pastry dessert origin is a bit mysterious.
No one actually knows when, or where exactly it became a thing.
There have been many pieces of evidence that attribute baklava as an origin to different countries and cultures across the world.
In fact,
Many ethnic groups like the Middle Easterners, Turkish, and Greek claims that Baklava dessert is their own.
As a result, every group makes the Baklava in a way that is more accustomed to their cultural needs and likings.
Now,
Quick question.
Do you like history?
If yes, then I will show you more about the history of Baklava.
If not, then…
I will change your mind😁
Let's start with
The Ottoman Empire
(Insert an Image that shows the ottoman empire please)
The ottoman empire, currently the Turkish Republic, was an empire that was recognized as the strongest, mightiest, and longest-lasting empire.
It ruled for over 600 years and included large areas of the Middle East, Eastern Europe, and North Africa; including:
Turkey.
Greece.
Egypt.
Jordan.
Romania.
Hungary.
Bulgaria.
Macedonia.
The Ottoman Empire was known for its culinary masterpieces that made the whole world go WOW, including Baklava and Turkish Delights.
There is no doubt that Baklava was perfected during the Ottoman Empire in the 15th century, after invading Constantinople.
Not to mention that Constantinople became the preeminent culinary hub of the empire later on.
Baklava during the Ottoman Empire, and till the 19th century, was considered as a delicacy for the rich and for the really important people in the country.
It was served at celebrations like weddings, and after the empire has achieved victory in a battle.
The Sultan himself would order to present trays of Baklava to the Janissaries on the 15th day of Ramadan.
And in case you don't know, Janissaries are the elite infantry units that protected the Sultan's household and had the higher rankings above any other soldier in the army, who wasn't a Janissary.
Now, Truth test!
I said that the baklava was perfected during the Ottoman empire. But I didn't say who or where is the actual origin of Baklava.
Well,
Prior to the Ottoman Empire, three other empires/cultures had the most convincing evidence and food that actually resembled the baklava to a high extent.
These are two leading pre-ottoman proposals, as I previously mentioned, for the Baklava roots:
Ancient Roman Placenta Cake.
The Persian lauzinaj.
These are different foods from different empires/cultures that resemble Baklava.
Ancient Roman Placenta Cake
The word "Placenta" originally comes from the Greek word "Plakous."
Plakous means something flat and broad.
An internationally renowned food historian named Patrick Faas identifies the Ancient Roman placenta cake as the origin of Baklava.
And, this is what he said in his book to support his claim:
"The Greeks and the Turks still argue over which dishes were originally Greek and which Turkish. Baklava, for example, is claimed by both countries. Greek and Turkish cuisine were both built upon the cookery of the Byzantine Empire, which was a continuation of the cooking of the Roman Empire. Roman cuisine had borrowed a great deal from the ancient Greeks, but placenta (and hence baklava) had a Latin, not a Greek, origin—please note that the conservative, anti-Greek Cato left us this recipe"
The Placenta Cake's ingredients and how it is made resemble how Baklava is made.
As it is also a honey-covered layered dough dessert.
This placenta cake recipe is from the 2nd century BC.
This also makes it safe to say that this Placenta cake is the original recipe of the modern Baklava.
The Persian Lauzinaj
Alrighty, let's break some ice first.
The Persian is a predominant ethnic group of Iran. They come from diverse ancestry, but they are united by their language.
They are known for their legacy of exceptional architecture, and marvelous foods, including the Persian Lauzinaj.
In the 10th century, Ibn Sayyar al-Warraq compiled different foods with their recipes from different Arab cuisines in a book and named it "Kitab al-Tabikh," which is can be translated to "the book of cooking."
But, through all the foods and the recipes in that book, there was nothing mentioned about Baklava, not a recipe and not even its name.
Still, there was another food whose recipe resembled that of the Baklava; Persian Lauzinaj.
The recipe of Lauzinaj in Ibn Sayyar al-Warraq's book was a very thin pastry wrapping small pieces of almond paste and drenched in syrup.
Some food historians and writers recognized the Persian lauzinaj as resembling to the modern Baklava.
But, one American historian named Charles Perry has said that "it was not much like baklava."
Influence from Different Civilizations
As you can see, Baklava can be around for more than a millennium.
Baklava has passed on to many cultures and civilizations, with each of them modifying and altering it to their preference and likings.
These are some of the main influences on the Baklava:
The Greek Influence.
The Armenian Influence.
The Arab Influence.
The Persian Influence.
The Turkish Influence.
The Greek Influence
Greek's major contribution to Baklava is undebatable. Their main modification that they were praised for was creating a dough technique that made the pastry thin as a leaf.
This is compared to
In fact, the name "phyllo," was invented by the Greeks, which means "leaf" in their language.
The Armenian Influence
At the time of the Ottoman Empire, there were some Armenian merchants taking care of their trade on the Eastern border of the Empire.
Those merchants discovered the Baklava while on the Spice and Silk Routes, and decided to add their own alteration to the baklava ingredients and sell it back at their home.
Their modifications were adding cinnamon and cloves to the baklava.
Simple additions, but worked like a charm.
The Arab Influence
As the Baklava kept crossing borders and introduced to more new cultures, the taste began to change in subtle nuances.
Arabs introduces the orange blossom water and rose-water to the Baklava ingredients, and the product mesmerized the taste buds
Quick notice: Lebanon, of all the Middle East countries, was known to offer the most contributions to the Baklava.
The Persian Influence
The Persian's influence was shaping the baklava in a diamond-shaped form and stuffing it with nuts, perfumed with jasmine.
The Turkish Influence
After the Ottomans invaded Constantinople, cooks and chefs who worked in the Ottoman palaces made some amazing and marvelous breakthroughs in the art of pasty desserts, and cooking in general.
Baklava was known to only be food for the rich.
But,
Toward the end of the 19th century, small pastry markets and shops started to appear in Constantinople, catering to the upper and the middle class.
After talking about different influences on Baklava,
Let's talk now about the Baklava we know today according to each country's preference.
The Modern Baklava (Accustomed to the Country It's at)
I will cover it in a list for more reading ease.
In:
Afghanistan and Cyprus, Baklava is made into triangle-shaped pieces. And they cover it with crushed pistachio nuts.
Iran, the baklava is made drier than the usual, and is made into diamond-shaped pieces perfumed with rose water.
Azerbaijan, baklava is prepared and served during the Nowruz festivity. The baklava is served in diamond-shaped pieces with a walnut or an almond on top.
Lebanon, Baklava is made, as mentioned before, using phyllo dough sheets. In these dough sheets, there is a filler of nuts (Whether pistachios, cashews, pine nuts, or walnuts). The baklava is served in an array of shapes including Diamond, triangular, and square shapes.
Turkey, the baklava is made slightly like the Lebanese's. But, there are specific types of nuts used in every city in Turkey. For example, the city of Gaziantep in southeast Turkey is known for its pistachio fillings.
Recommended Baklava Recipes for your Health and Well-Being
Doing my research for this article, I came across some of the best delicious and healthy baklava recipes.
And, I mean to share them with you.
I made it last Ramadan with my wife and it sure made our Ramadan special.
We tried this recipe on Eid Alfetr with the rest of the family members, and their feedback was mesmerizing and really rewarding.
We only see them on special occasions and this recipe sure made this occasion remarkable and filled with "Yummy" and "WoW! That tastes great"
Now, to our second food on this list for today's article.
Turkish Delights
Let's start with the simple definition of what Turkish Delights are.
What is the Turkish Delight?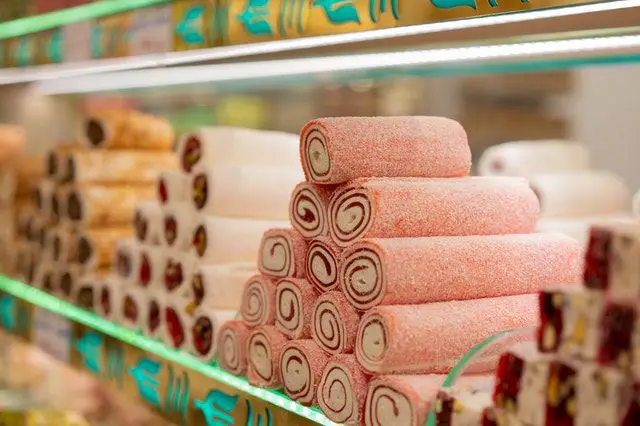 Remember the Ottoman Empire?
Of course, you do. 
During the Ottoman Empire, pastry desserts and different foods were brought to a whole new level.
The cooks and chefs of Constantinople were considered the best in the world.
With their creativity and their whole new vision for food, they painted a whole new mesmerizing picture for foods, especially desserts, that stood its ground for decades, even after the empire itself has fallen.
And, one of these desserts that made the whole world go WOW was The Turkish Delights.
But, what exactly are the Turkish Delights?
The Turkish Delights are a family of confections whose main ingredients are starch and sugar.
It has a gel-like texture, and has this ability to get your mouth filled with saliva.
Worth mentioning, there are two varieties of the ingredients that you need to be aware of if you are willing to purchase them:
Premium Varieties: These Turkish delights consist heavily of chopped dates, pistachios, hazelnuts, or walnut. And, they are all bound on top of the gel and inside of it.
Traditional Varieties: These varieties are flavored with mastic gum, lemon, or rosewater.
Turkish delights are often served with a dust-like powder covering them.
This dust-like powder can be:
Icing Sugar.
 
Powdered cream of tartar.
Here is a video that shows you exactly how to make Turkish Delights at home.
(Insert this video please: https://www.youtube.com/watch?v=JjJIo1edtWA&ab_channel=shaziya%27srecipes
After knowing its definition, let's talk about its history.
History of Turkish Delights
Turkish Delights are known as "Lokum." Which is a Turkish word that came from the Arabic word "al-lukum."
Turkish Delights are known by the Arabs as the "throat comfort," which obviously indicates its sweetness.
But, what is the story of this amazing dessert?
As the story goes, the Sultan was looking to impress and please his mistresses, so he asked his confectionary chefs to make a unique dessert.
Through this demand, the Turkish delights were first created.
Bekir Efendi, who was a fully apprenticed and experienced confectioner, arrived in Istanbul in 1777 from a small town in eastern Anatolia.
This is was in the reign of Sultan Abdul Hamid the first.
Bekir Efendi invented the Turkish Delights, which made him famous and fortune amongst those with the sweet tooth.
Turkish Delights, or at that time referred to as "Lokum," was known to be served for special occasions.
They would be wrapped and given to people as fashionable gifts.
This amazing dessert made Bekir Efendi the confectioner chief of the Ottoman court.
And in the 19th century, a British traveler who liked the "Lokum" and found it as a great investment and a genius dessert decided to take it to the west in the name of "Turkish Delights."
There is a store in Istanbul that serves these Turkish Delights for over two centuries
This store was made by Haci Bekir Efendi, and his granddaughter "Hande Celalyan" now is the one who runs it.
To this day, they still serve the Turkish Delights, amongst other desserts, with the same main ingredients as their Great Grandfather.
Read this amazing article about Hande Celalyan and how they run their shop, and managed to run the store successfully as women in a country where "mean are still the predominant breadwinners."
Imagine that; A store that serves the Turkish Delights that was started by the one who invented the dessert itself in the first place.
Can't wait to visit it one day!
Anyway, we have tackled its
Flavors of Turkish Delights (Countries well known for its unique exclusive Turkish Delight)?
Since Turkish Delights first went to the west through that British traveler, it has been to many countries and cultures that added their own alterations to the recipe to make it more accustomed to their culture and likings.
Currently, there are probably hundreds of flavors all over the world.
And, here are some of the most known and liked ones:
Pistachio nuts flavor. This flavor is more common in Turkey as it is one of the leading producers of pistachio nuts.
Turkish Delights are served in both rolls and cubes, and in all sorts of flavors. But, it is a common thing to dip it or stuff it with generous amounts of pistachio nuts.
Rose Flavor. Imagine rolls of Turkish delights that are flavored with rosewater and sweetened with honey and coated with dried rose petals. This is one of the most lavishing gifts you can get while in Istanbul from any spice bazaar of Turkey.
Lemon Flavor. It's a classic flavor of the Turkish Delights. Imagine exciting your taste buds with this sugary and sour taste all in a bite. Highly recommended!
Coconut Flavor. Turkish Delights coated with coconut are such a mesmerizing treat. They are served in rolls with mouthwatering fillings like chopped nuts, and even sometimes Nutella.
Here is an advice:
Doing my research for this article, I found that many of these flavors were invented by just trying things out and seeing if it works altogether.
So, if there is a special spice that you know will taste great as a filling or a coating of the Turkish Delights, I recommend you try making it at home.
And who knows, maybe you will come up with a new dessert product line.
Now, let's tackle the Turkish Delights in the different countries and how they made it different from the known.
Firstly,
You already know that the Ottoman Empire included many countries.
And after the empire collapsed, these countries became independent making a country that matches their own version, and also made some alterations to their foods that matched their likings and needs.
Here are some of these countries:
Greece: The traditional Turkish delights are served with coffee. Additionally, the more abundant Turkish delights flavor in their country is the mastic.
Romania: The Turkish Delights in Romania are served with traditional cakes.
North America: American Companies have produced variations of the Turkish Delights since the 1930s. They made it with a wide array of flavors.
Nestlé produces Turkish delights covered in chocolate named the Big Turk.
Britain: Turkish Delight is enjoyed as chocolate bars in Britain as well as other countries like Canada, New Zealand, Ireland, and Australia. These chocolate bars are named Fry's Turkish Delight which is basically a Turkish Delight with a rose flavor coved in chocolate.
Conclusion
As you can see, and probably even taste, these two desserts have a great history, and were first made by professional, experienced, and filly apprenticed confectioners.
They taste amazing.
I mean,
Both of these desserts are essentials for my holidays and special occasions including Ramadan and Eid Al-fetr, Eid Al-Adha, my son's birthdays, and even my wife's.
She loves these tasty desserts, and they made her feel happy.
But, as a Doctor, I advise her and you to do not overindulge in these desserts.
They are basically made of sugar, which can be harmful if you eat them a lot or every day.
Now, I would like to hear from you.
What information from today's post was the most remarkable to you?
Or maybe you have something to ask or give feedback for the post.
Either way, let me know by leaving a comment below right now.