Is pastirma safe for everyone?
Pastirma with old cheese is one of our most favorite and delicious childhood breakfasts. We always were eager to have these sandwiches before going to school or when we're on a picnic. Now, and after a decade, I urge my sons not to eat them excessively if at all.
Pastirma is definitely unsafe for everyone. Its hazards are related to cancer, infections, pregnancy problems, and chronic diseases.
Even though all foodstuff can cause harm if excessively consumed, some foods like pastrami can cause harm in smaller quantities and more importantly, in a subtle way, even after many years of intake.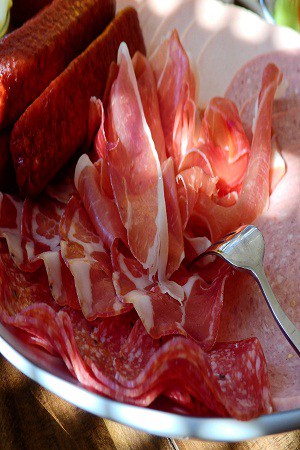 Pastirma, bastirma, or basterma is a processed type of deli meat. Known also as pastrami in Romania and has similar relatives in many nations. Pastirma is said to originate from the Turkic noun basturma that means "to press" or the Romanian noun that means "to preserve". Both are relevant to the process used to prepare pastirma indeed.
The group to which pastirma belongs is called "deli meats", "lunch meats" or "cold meats", as they are usually served cold. Pastirma is considered processed or "cured" meat as it has been processed for the purpose of preservation to extend its shelf-life and improve its flavor. Other members of the family include pepperoni, salami, luncheon, roast beef, corned beef, hot dogs, canned meat, and sausages.
Usually, beef or water buffalo meat is used, however, lamb, pork, goat, or camel meat is used to make pastirma. The first step is rinsing and salting the meat. Then comes drying, and then covering with a "curing mixture" which is composed of nitrites or nitrates, glucose, and sugar. The purpose of nitrites or nitrates is to prevent "botulism", a serious nervous disease that is caused by some bacteria which lives only in closed non-oxygenated materials.  This is called the "dry-curing" step
Next, the meat is washed and air-dried. This is intended to further overcome any microbes that may be in the meat. Afterward, pressing the meat for 16 hours and then leaving it to dry again for several days. Only now, the characteristic whitish layer starts to appear, which is formed by the melted fat content of the meat.
Next, the meat is covered with fenugreek paste. The paste is composed of fenugreek seed's powder, garlic, salt, and pepper. It is also assumed to reduce the bacterial load of the meat and gives it the color, aroma, and taste characteristic of pastirma.
The final step is to dry it till ripening. The whole process needs one month. Many factors can help reduce the potential of microbial presence in pastirma, including the dryness, nitrites, and the fenugreek paste.
After preparation, you can keep it in the refrigerator for up to 5 days and in the freezer for 2 months.
Amount Per Serving: 2.5 oz (71 grams)
Calories: 104 Kcal
Calories from Fat: 37 Kcal
Total Fat:  4.1grams. 6% of daily recommended intake (DRI)
Saturated Fat: 9 grams: 10% of DRI
Cholesterol: 48mg.  16% of DRI
Sodium765mg. 32% of DRI
Protein: 15grams
Other nutrients: of insignificant amounts.
How long would it take to burn off 1 serving of pastirma?
Walking (3mph): 28 minutes
Running (6mph): 10 minutes
Bicycling (10mph): 14 minutes
The hazardous effects of any food will come from any of the following sources:
Its natural ingredients including caloric value
Its additives or food preservatives.
The way it is cooked or prepared
Exposure to external factors like microbes or toxins
Factors related to the consumer like food allergy, pre-existing disease like diabetes, obesity, etc…
The first four factors can affect even the healthy person, while the last one will only affect a predisposed person.
1 . The ingredients of the pastirma: are in general of no harm to normal people eating reasonable quantities. However, excessive eating of processed meats, and red meats in general, is a definite risk factor for heart and vessel disease and is linked to death.
2 . Using additives: this is the main culprit, in addition to the preparation method. The following points should be noted:
Addition of nitrites/nitrates has been proven to be carcinogenic (can lead to cancer). Although red meat, in general, was claimed to be cancerous too, the incidence of this complication is far less than in processed meats like pastirma.
Nitrates are linked to cancer of the colon. Only 50 grams of processed meat a day will increase it's the risk of this cancer to 18%. Not only that, but some studies suggested a link with both cancer of the breast and cancer of the stomach.
3 . The preparation method: exposure of proteins and fats to high temperatures during cooking, especially the way processed meats are prepared, can result in the formation of hazardous by-products. These were also linked to increased cancer risk.
4 . Exposure to external toxins and microbes: this can be of great impact in pastirma made by small firms or butchers away from health authority's direct supervision. These are the most important points to consider:
Direct infection to you can occur if the pastirma is not prepared in sanitary conditions, is not preserved properly, or left beyond its shelf-life. Many types of bacteria are encountered. This can cause severe gastroenteritis (bacterial infection of the stomach and intestines) with profuse diarrhea and vomiting in some cases. It's is best either to avoid eating pastirma or getting it from a very trustworthy source.
Some other types of bacterial infections are very serious if acquired during pregnancy, such as toxoplasma and listeria. Although it is rare to get these infections, their main danger is that they can affect the baby, causing miscarriage or congenital malformations.
Some authorities advise pregnant women who desire to eat processed meat to heat them till steaming as this can kill the above two microbes. However, it is much more advisable to avoid eating them during pregnancy.
5 . Factors related to the consumers:
Patients with gout are advised to avoid red meat in general, and so pastirma is to be avoided in this disease
Patients with heart diseases, lipid problems, or high blood pressure, or those willing to lose weight are only advised to stick to their daily caloric and nutrients "budget". Eating pastirma will not rapidly cause any deterioration of these conditions, but can have a detrimental effect if taken excessively over a long time.