7 Reasons why the Wagyu beef is the most expensive in the world
Searching for a topic for this blog, I came across the Wagyu beef.
I was amazed by the huge number of articles written about one type of beef, not to mention the research papers that tackle why this type of beef is the best, most tasty, and expensive, beef in the world.
What I found is that Wagyu beef is the most expensive because of 7 main reasons:
Rich Marbling and Buttery Taste—Take you on a juicy journey.

The cow is ridiculously expensive and time-consuming to breed.

It's only exclusive to Japan—Which makes it worth widely more when the beef is exported to other countries.

It must meet rigorous Japanese Grading to have access to the market.

Massaged and listens to classical music—Stress-Free Environment creates better meat quality.

The meat literally melts in your mouth!

Extremely easy to cook—Easy time in the kitchen.
What is Wagyu?
In Japan, there are four distinct breeds of beef cattle, Wagyu is one of them.
Across the different regions in Japan, Wagyu beef is shipped to other areas carrying the name where it was nationally raised. 
Simply put, the term "Wagyu" can be separated where 'Wa' means Japanese and 'gyu' means cow. Overall, the term Wagyu stands for "Japanese cow." 
So,
Have you ever come across a type of beef that costs triple-digits a pound, in U.S dollars?
Well, me neither, not three days ago.
Wagyu beef has occupied the most expensive beef vacancy, not to mention the delightful journey you are on once you take a bite.
Through the last decade, there has been growing attention towards Wagyu beef.
Due to its marble texture, many have acknowledged its heavenly taste in the different videos and articles I have watched and read discerning the Wagyu beef.
One of those mouth-watery feedbacks was "It's like buttery, it's like as if it was like coated in butter, but it wasn't, it was just salt and pepper which is crazy."
Now after reading a lot of articles and research papers, let me talk to you more about the reasons why Wagyu beef is the most expensive beef in the world.
Without further ado, Let's dive in…
1-Rich Marbling and Buttery Taste—Take you on a juicy journey.
And what I mean by marble is visible layers of intramuscular fat, coming back to this part in a bit.
There is no questioning that Wagyu beef gives you the most luscious experiment you will ever encounter while having a steak for lunch or dinner.
Except that it is not recommended to eat Wagyu beef before sleep, as the high percentage of fats in the beef will take time to be digested in your body, leading to trouble sleeping.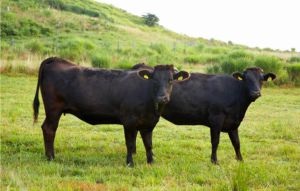 This marbling texture and fast-dissolving fats in your mouth is what separates Wagyu from any other type of beef.
But, what does it that makes its texture and taste this way?
The answer lies within the:
The highly protected and regulated upbringing of the cow.
Extensive fattening process it goes through.
Top-notch genetic makeup
All leading to an evenly distributed fat throughout the cow's muscles.
I would like to cover every section mentioned here, I want you to get amazed the same way I was.
For the…
The highly protected and regulated upbringing of the cow
Let me say first that highly revered Wagyu beef comes only from Japan, the main factory of all quality Wagyu beef, and other cattle's beef.
For the best quality meat, special breeders are needed. The ones who have probably spent the majority of their teenage and adult life taking care of different breeds of cattle.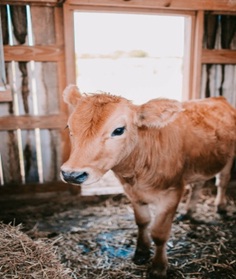 Wagyu are raised by those specialty breeders until they are between 7 and 10 months old.
Then, they are sold to a farmer with a birth certificate certifying its genuine and pure bloodline.
One of the breeders, said while being asked about the high quality of the meat, and I quote "The key is a stress-free environment, and providing the most humane life for them."
Also, the cows are given plenty of room and grazed on a voluminous pasture to graze.
Now, what about the feeding process?
The cows go through an extensive fattening process
After the cow has now been transported to specialty breeders, it takes them for about 2 to 3 years to fully mature, where they reach 1500 pounds or have 50% of their body weight as fats.
This milestone takes extensive care and monitored feeding to be reached. The cows are fed three times a day on high-energy ingredients including hay, grain, and wheat.
With this comprehensive feeding and regulated life-style, they are expected to gain around 2.5 pounds a day.
This feeding process partially results in the beautifully fatty and deliciously flavorsome and tender Wagyu beef.
Worth mentioning that this taste and rich nutritional content are also a product of well-organized and modified (not in laboratories) genetic qualities and rich history of breeding and mating different high-quality cattle through the last 150 years.
Top-Notch Genetic Qualities
According to a research paper named 'Characteristics and Health Benefit of Highly Marbled Wagyu and Hanwoo Beef,' Wagyu cattle are genetically prone to produce more oleic acid.
Oleic acid basically reduces your chance of having heart failures, enhances your heart conditions by decreasing cholesterol levels, preventing inflammation and other health dilemmas.
Also,
According to a research paper named 'Heritabilities and genetic correlations of fatty acid compositions in longissimus muscle lipid with carcass traits in Japanese Black cattle,' inner body production of the oleic acid for the Wagyu beef is highly heritable through the different generations. In other words, meat quality doesn't stay the same with time, it gets better.
I now wonder how it will taste 10 years in the future.
Dang, my mouth is getting watery again.
As I mentioned before, there is an extensive fattening process that the Wagyu cattle must go through.
There are studies conducted on 'The Influence of the roughage level in the finishing diet on carcass characteristics and fatty acid composition of carcass fat in fattening Japanese black steers,' that confirmed that the later fattening period can lead to higher MUFA (Monounsaturated fatty acids) concentration in the subcutaneous adipose tissues of Wagyu steer.
Or in other words, one bite is more nutritious than a whole meat steak of another kind.
Case Study of people acknowledging its taste
Believe it or not, there are tons of articles only about people's experience tasting this beef.
There is that one article that strikes me the most where the writer, Nadia Vidinova, talked about our experience, and her friend, with the Wagyu beef precisely and I quote "Both of us left with the fuzzy, happy feeling that comes with being well-fed in pleasant surroundings."
So, if you are a steak lover and have 200$, use it in buying 1 pound of Wagyu instead of buying that slick marble watch.
It is worth it.
Going to the second reason which is… 
2-The cow is ridiculously expensive and time-consuming to breed.
The process of upbringing this cow can be cut shorted into:
Three meals a day.
A 

Must

 stress-free environment.
Pasture-raised with room to roam.
The food they eat is 70% or more organic and is expensive to grow on land, which contributes to price increases.
In other words, no easing up on the budget or shortcuts here.
According to the American Wagyu Association (AWA), the genetic makeup of the Wagyu beef resulted from mating with other cows as much as 35,000 years ago to get the current strain that has the world on its feet.
Providing an easy-to-access energy source, the Wagyu beef was bred to have the most intra-muscular fat cells.
Biologically speaking, fatty cells can be easily metabolized and broke down into monosaccharides, and thus faster access and exposition to the energy source.
As mentioned before, the cows are raised by a breeder till 10 months old then transported to specialty breeders for the extensive fattening process that I also talked about later.
It is like growing and breeding mini-dinosaurs. The only difference is that they won't make their mouth watery with your scent, it is the other way around. 
3-It's only exclusive to Japan—Making it costs widely more when exported to other countries.
If you are in the Middle East, the U.S.A, or any other country in the world, getting some Wagyu beef can be a problem.
The reason is that you are not paying for the beef itself, you are paying for the:
The price of importing the cow.

Shipping and preserving of the beef costings.
Let's dissect this a little more, shall we?
Only two countries include authentic Wagyu beef:
Japan.
Australia (A very tiny percentage of the Wagyu cattle is in Australia)
The elevated experience of the supremely marbled Japanese steak was inhibited by Japan's prohibition of exporting fresh products of Wagyu, and even cow's sperm, to other countries.
The idea of breeding national Wagyu cattle using the cows imported from Japan in the 1970s was wandering around in the United States until they thought of bringing the thought to reality and grow their own cattle.
Still, the produced cattle was not tasty and buttery like the Japanese's at first, but with time, it got better and better but never like the origin. 
With this problem upfront, the United States and other countries decided to import Wagyu's meat to be served at the restaurants.
The next problem now encountered is that the resources involved in shipping a fresh product to the countries are high, making the process of purchasing a wagyu beef for an intermediate individual quite tricky and complex.
However, modifications and newer models for the technology and processes included in the shipping of the cattle beef are now being developed for better meat quality after the journey whilst lower costs. 
4-It must meet rigorous Japanese Grading to have access to the market.
To protect the Wagyu beef's integrity, transparency, and authenticity, it is imperative that the grading of this remarkably unique product is properly executed on high standards.
The Japanese Wagyu beef is strictly graded by the Japanese meat grading association.
The grading area for the Wagyu Beef carcasses is between the sixth and seventh rib.
Wagyu beef is graded based on Yield, the ratio of meat compared to the actual carcass weight, and the Grade, the beef marbling score of the whole carcass (BMS), Beef Color Standard (BCS), Beef Fat Standard (BFS), Firmness and Texture.
There are different Wagyu with different grades; there are A3, A4, and A5.
Where the letter A stands for the yield, and the number 5 stands for the marbling, firmness, texture, fats, and color of the Wagyu carcass.
You might have guessed now that the A5 is the best and highest quality Wagyu among all others.
And of course, the best costs the highest.
You can refer to this article to see the exact grades of the different Wagyu beef.  
5-Massaged and listens to classical music—Stress-Free Environment creates better meat quality.
The AMP‐activated protein kinase‐mediated energy metabolism.
Crosstalk among calcium signaling pathways and reactive oxygen species.
Protein modification, apoptosis, calpain, and cathepsin proteolytic systems.
Heat shock proteins
Changes or modifications in one or more of these elements cause biochemical changes during the early postmortem period which can subsequently affect the meat quality, degrading its quality.
Let me clear something out for you.
Imagine a cattle being transported to or from a farm as the first thought, and a group of animals being confined before slaughter.
This adjustment or change in their used-to environment will inevitably get them to feel stressed, or uncomfortable. And, what this research paper shortly presents that this stress will affect the animals' physiological and metabolic functions, which control postmortem biochemical changes.
Eventually, the meat quality changes to a lower grade, ultimately affecting its price.
On the other hand, for the Wagu beef, farmers make sure they massage them regularly and make them listen to classical music before they are slaughtered.
It even affects animals more, because simply, their minds are not troubled or filled with information, their next meal, life in general, better future, and all of this materialistic stuff we fill our heads with. 
6- The meat literally melts in your mouth!
One of the main reasons the Wagyu beef is superior above all other types of beef is that helps you sail effortlessly, without much chewing, through the buttery and mouthful taste of greatness.
It is like a party in your mouth that you actually enjoy.
Wagyu beef, as mentioned, has a high percentage of fat. And, you won't believe me when I tell you that, according to a research paper, the fat-melting temperature has an average of 31°C, 6 degrees below your normal body temperature.
It literally melts in your mouth!
I like to think of it this way: "The taste tickles your umami, one of the five basic tastes, sensory neurons in your mouth."
 Heavenly beef, right?
For the seventh and last reason…
7-Extremely easy to cook—Easy time in the kitchen
I have been buzzing around through all of this article about how much this beef gets you frothing at the mouth.
You might have started to think that it has some solid ways of being cooked so it can get you on this mouth-wateringly flavorsome journey.
Well, to cook some Wagyu beef burger:
You just have to have a pan.

Avoid grilling.
Seasoning isn't that required for a better taste.
Adding oil or butter will just make you skip the fatty and juicy taste of the meat, so, it is not recommended.
You can…
Cook It medium rare to medium
This grass-fed wagyu makes it at its juiciest and melted fat throughout the meat.
So, this way can be actually one of the best ways you can cook it.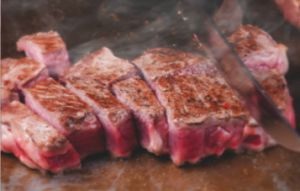 Don't cook it right away
After removing your Wagyu from the refrigerator, leave it for about an hour to be cooked more evenly and faster.
Time to spray the magical salt on
When your Wagyu is now the room's temperature, season it with salt and pepper. 
Get some magical heat into the equation
To get that nice brownish color and retain the meat's moisture during cooking, you have to add some well-computed amount of heat. (But when life happens and you get drifted away with the timing, don't worry, half-burnt will also taste good)
Heat the surfaces of roasts and thicker steaks (over 2.5 cm in thick) in a pre-heated pan for 1.5-2 minutes on each surface, before moving to moderate heat to finish cooking.  
Know more about the different temperatures according to wagyu's size by clicking this link
Give it some well-needed rest
When you are finished cooking, it is crucial that you give the beef a rest for about 10 minutes for the juices to settle in.
You can pair your beef with some earthy favor using sautéed mushrooms or a traditional miso soup.
Concluding
To be honest, I have never had that much fun writing an article. Wagyu beef is the most expensive beef in the world, and this is for a reason, 7 actually.

The tenderness, marble, texture, and the description of all of these features through all the articles and research papers I have read to write this post genuinely made me switch to break my vegetarian rule, one last time…

Hopefully, you also had fun reading this article and I hope I didn't get you to swallow your saliva a lot.

If you have any questions or comments be free to ask and I will be honored to answer right away.

But, if I am having Wagyu for lunch, the response will be delayed a little bit.